Bowls bowls bowls. We love bowls. Whether it's at breakfast, lunch, or supper, the possibilities are endless when you put together fresh fruits or vegetables, whole grains, and healthy protein with an intense, home-made secret sauce!
If it's cold outside and you're not up for grocery shopping, get creative and use vegetables or beans that you already have at home. For those who haven't cooked with tahini or edamame, tahini is a creamy calcium, protein, and healthy fat containing sesame seed paste that can be found at most grocery stores. Edamame are soy beans packed with potassium, protein and fibre, and can be found in the frozen section of grocery stores. While the brown rice from our friends at USA Rice Canada brings additional complex carbohydrates, magnesium, and B vitamins to the table.
This  bowl is an anti-inflammatory, heart-healthy nutrition powerhouse full of antioxidants, phytonutrients, plant protein, and wholesome fiber. Your eyes will widen with anticipation when the golden sesame soy roasted cauliflower, sweet bell peppers, crisp carrots, bright edamame and natural brown rice drizzled with tahini-honey-soy unite and create this earthy, scrumptious, feel-good meal!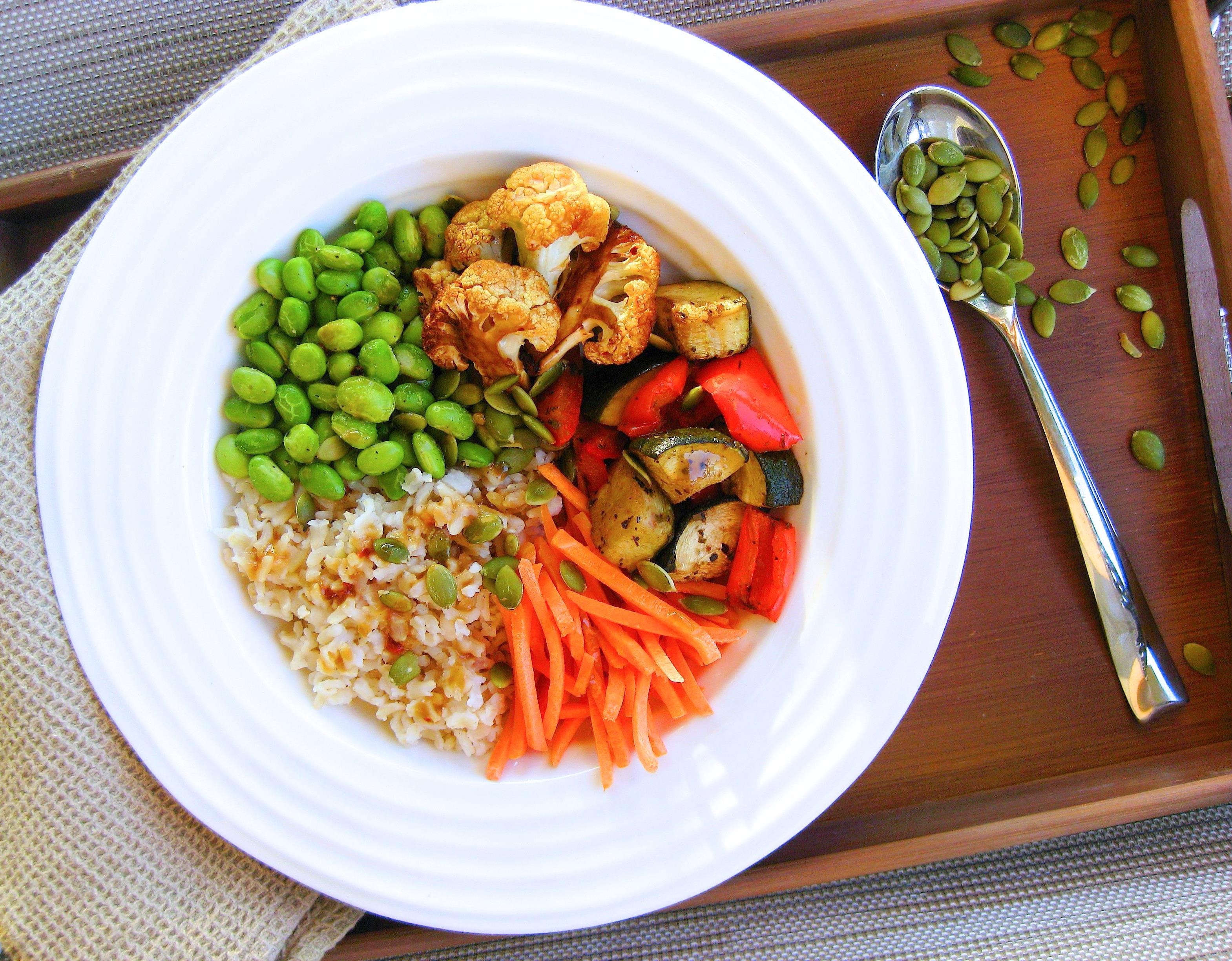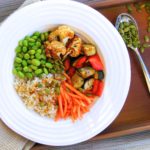 Servings

Prep Time

4

Servings

65

Minutes
Servings

Prep Time

4

Servings

65

Minutes
Servings

Prep Time

4

Servings

65

Minutes

Servings

Prep Time

4

Servings

65

Minutes
3

cup

cauliflower

(or 1 small head)

1

zucchini

(large)

2

bell peppers

1

carrot

(large)

1

tbsp

toasted sesame oil

1

tbsp

soy sauce

(low sodium)

1/2

tbsp

honey

1/2

tsp

sambal oelek

(or chili garlic sauce)

3/4

tbsp

balsamic vinegar

1/2

tbsp

canola oil

salt and pepper

(to taste)

dried basil and oregano

(to taste)

1 1/4

cup

brown rice

2 3/4

cup

frozen edamame beans
1

tbsp

toasted sesame oil

2 1/2

tbsp

tahini paste

3

tbsp

soy sauce

(low sodium)

2

tbsp

honey

1/2

tsp

red chili pepper flakes

1/2

tsp

rice vinegar
Roughly chop cauliflower and place on a lined baking pan. Dice zucchini and bell peppers and place on another lined baking pan, shred carrot and put aside. Preheat oven to 380 degrees F

In a small bowl add sesame oil, soy sauce, honey, and sambal oleic, drizzle over cauliflower and mix well (with your hands)

Drizzle balsamic vinegar and canola oil over zucchini and bell peppers, season with salt, pepper, basil, and oregano as desired and mix well

Bake cauliflower, zucchini and peppers for 20 minutes, then flip and bake for additional 5 minutes or until vegetables are golden cooked through

While vegetables bake, prepare rice as per package instructions. Microwave edamame as per package instructions and season with salt and pepper to taste

Prepare sauce by mixing together sesame oil, tahini, soy sauce, honey, chili flakes and rice vinegar in a small bowl

In a serving bowl, in a circular fashion plate sections of rice, edamame, roasted vegetables, and carrots. Drizzle with 1½ - 2 tbsp (20-30 mL) sauce and enjoy every mouthful of complex flavor and texture!!